Photo Gallery
Pictures Needed
If you have a homemade airgun or heavily modded airgun that you want to share with the rest of us, email a picture and description of the gun, and I will post it here upon my approval.
.50 Cal Muzzleloading Airgun - Submitted by Geo


This is one of my favorites, it shoots a 180 grain muzzleloading bullet at 345 fps, making 47 ft-lbs of muzzle energy. It also shoot shotgun shot for sparrow hunting and airgun arrows for larger game hunting.
Crosman Shotgun - Submitted by Geo


This was one of my steps toward homemade airguns. This shotgun is made off a Crosman 2240. I never did chrony it, but it did pattern well under 25 feet. It would also shoot a AA battery out of sight. Details on how to construct one of these is found on the Extreme Crosman Page.
.50 Cal Breech Loading Airgun - Submitted by Geo


Nobody seemed to like the shape of this one, but it is one of my more powerful creations. It would shoot 180 grain balls at 380+ fps. The weaver rail was great for my BSA red dot. Unlike the guns above, this one was a breech loader.
2240 Bulk Filled Carbine - Submitted by Geo


Affectionately known as Stubby, this airgun would shoot 21.2 gr. Kodiaks around the 500 fps mark. It was also notoriously hungry for CO2, and had a tendency to make lots of snow if the power adjuster was screwed in too far. A great airgun to have in the brush for rabbits and sparrows alike.
Reaper Rifle- Submitted by Ben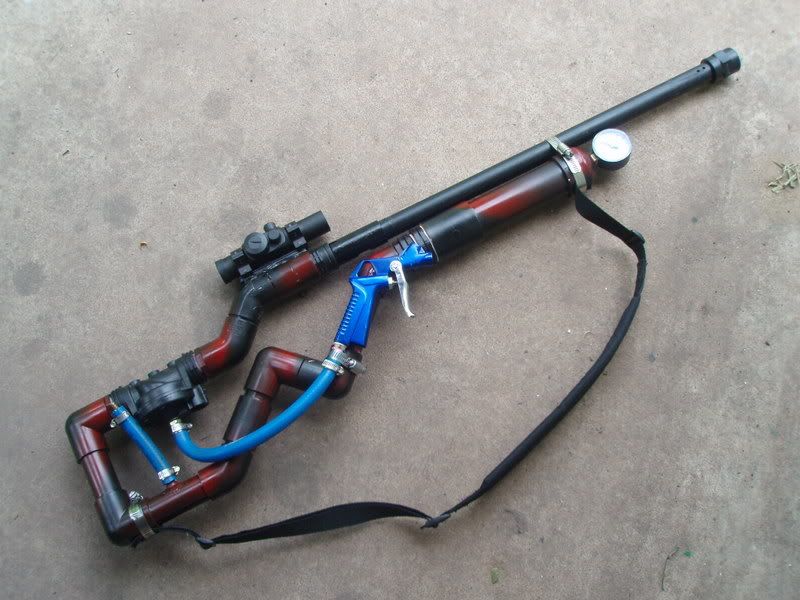 Shoots 20 mm sinkers or marbles on a 100 psi fill. It has a red/green dot scope and gun sling so it can be carried easily.
.50 cal Long Gun - Submitted by Geo


This is my most powerful airgun yet, shooting 120 gr homemade slugs at 480 fps.
7mm 2260 Crosman conversion- Submitted by Jeff


Mods for this gun:

STEEL receiver, my design. Oversize transfer port from CO2 valve.
Nice Remington 20 inch, 7mm Mag barrel, whittled down to fit and threaded 1/2-28 for accessories.
Steel bolt and handle. Steel front sight. Stock plastic rear sight retained for now. Custom Aluminum barrel band.
All steel polished and blued, wood with a few hand rubbed layers of finish.
Custom tool steel swagging dies for pellets; took a long time to get these right! Lead semi-wadcutters; Best for the short range of 100yds for this rifle. Hollow points may come soon, although expansion at these velocities won't be that impressive.
Buy some throttle bodies, I have way too much time on my hands! Any way, ballistics numbers are:

30gr 469 fps 14.6 ft/lbs
32gr 482 fps 17.5 ft/lbs
36gr 465 fps 17.2 ft/lbs
38gr 456 fps 17.5 ft/lbs
40gr 426 fps 16.1 ft/lbs
42gr 407 fps 15.4 ft/lbs
44gr 385fps 14.5 ft/lbs
46gr 384fps 15.0 ft/lbs
Modified Crosman- Submitted by Simo


Here is my modified Crosman. It has 24" barrel, steel breech, heavily modified valve, tuned trigger and extended bolt probe. Trigger, valve and hammer springs changed to give maximum power. All parts grinded and painted. Silencer decreases the sound of gas blast. Gives aprox 10 shots with same power. Average velocity 565fps with .22 Jsb Monster 25,4grain pellet. Thats 18 ftlbs average! Temperature 73F when chronied.